Good Morning Craft World! Last night I was sucked into the black hole. That's right, I went to Good Will. Since some of the projects I have been working on (shown in the Sneak Peak) have been taking a little longer than expected, I was looking for a quick project and something to jazz up my dining room table.
Check out the all these great items I scored for $11!
Pitcher, Mirror Frame, Wall Hanging Candle Holder, Apothecary Jar. (Pardon the clutter in the background. Still working on cleaning this room)
After scooping up all these great deals, I headed over to W*l-M*art (this is a curse word in our house so I go there sparingly) to pick up some spray paint. Generally I go to Home Depot but I was right down the road so I made an exception. I grabbed some cheap flat and glossy white paint for the pitcher and the tray but for the candle holder I bought some Krylon spray paint in Ballet Slipper.
Of course since I have the patience of a two year old when it comes to crafting, I started in on all of them right away but today I'd like to focus on how I repurposed the mirror frame.
Here is how it looked when I got it

There are a few things a could have done with this but I decided to turn it into a serving tray that I can use to decorate my dining room table.
I spray painted this with a flat white color. It took about 3-4 coats to achieve the look I wanted. I wanted to be able to see some of the wood grain through the bottom of the tray and antique the edges. I used a paper towel on the wet paint to streak the edges to get a "worn" look. I forgot to take a close up picture but I can add that later.
Here is what I ended up with

It turned out pretty well. I already had these crystal candle holders that the Mister and I got as a wedding gift. You can still see the opening where originally you would use to hang the mirror. I plan on adding some other decor to the tray to dress it up as well as adding something to the bottom to cover the hole. For now, it looks pretty great and is a nice addition to the room. Now I just have to keep it clean!
Keep your eyes out for my next post using this gem from Good Will:
This craft was inspired by an amazing blog. Cleverly Inspired is an amazing blog that covers a whole spectrum of DIY-ness. She turned an ordinary candle holder like the one above into this beautiful Tiffany inspired wall hanging. So when I saw this treasure at GW, I knew I had to try it!
Please go check out this blog for great crafts, recipes, home renovations and much more!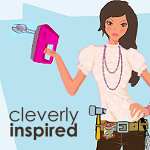 Happy Friday!
Yours in Craft,
Kristen

PS- I'm linking this post here today!